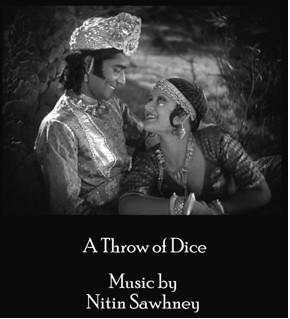 This exciting project brings together Franz Osten's finest, most accomplished and stunningly beautiful Indian silent film from 1929, 'A Throw of Dice' with British Asian NitinSawhney, one of Great Britain's most influential and versatile creative music talents. The film has not been on general release in over 70 years and is an undiscovered treasure from the British Film Institute Archives.
Based on the pivotal gambling episode from the Mahabharata, 'A Throw of Dice' is a love story that tells the tale of Ranjit and the nefarious Sohan, two kings with a passion for gambling and for the same woman, Sunita.
The HD quality film will be projected behind a symphony orchestra, with the addition of a downstage 'band' consisting of piano and celesta (to be played by the composer, Nitin Sawhney), tabla, flutes and vocalists. The orchestra can be a resident orchestra or a touring orchestra depending on the venue. The stage will be blacked out to further enhance the collaboration of film and music (see image below). Complete sound and light plots are provided to ensure the high quality of auditory and visual experience.Technical Rider is available with full instrumentation and projection requirements.
It is possible to present this project in an outdoors venue as was produced in London's Trafalgar Square to huge acclaim in August 2007 with the London Symphony Orchestra.An enraptured audience of 10,000 people attended.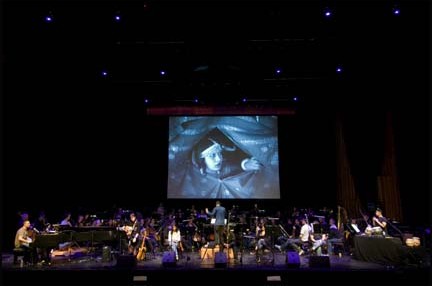 London's Barbican Center – April 2006
"Behind the stage was a screen, showing the 1929 German-Indian movie A Throw of Dice … In front of the screen were the massed ranks of the LSO, with conductor Stephen Hussey wearing headphones to keep the orchestra in sync. In front of them were Sawhney himself, wearing a long black tunic and playing keyboards, and members of his band on anything from tablas to guitar."
"Osten's film was an engaging, and often charming early epic, making use of massed crowd scenes and an array of exotic animals, from tigers to elephants to camels. Nitin's score involved equal confidence and variety, constantly changing mood and pace, switching from delicate Indian scat vocals to sweeping strings, or from guitar to sudden stirring brass. It was, by necessity, a sometimes frantic technical exercise, but there were passages in which he had time to develop his themes, using the Indian-influenced flute playing of Ashwin Srinivasan and the tabla percussion of Aref Durvesh against the enthusiastic work of the LSO, with stirring, Celtic-sounding melodies added into the mix.
"This was great film music … it showed how the increasingly assured Sawhney is breaking down the barriers between pop, classical and world music."
The Guardian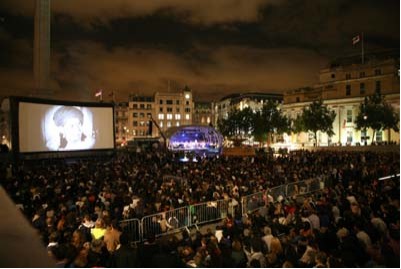 Trafalgar Square – August 2007
"Sawhney's score for A Throw of the Dice is fusion at its best – meaning that he has blended Asian-style soloists so effortlessly with the sounds of a symphony orchestra that you cease to notice anything unusual is happening. Sawhney has a real talent. It will be fascinating to watch what else he does with it." Julian Lloyd Webber – Telegraph