AKRAM KHAN COMPANY
Bahok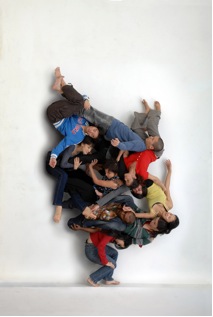 (North American Premiere)
February/March 2010
TOUR DATES 2011
9-Feb Irvine Barclay Theatre
12-Feb Arts Power! UC San Diego
16-Feb Arts & Lectures, UC Santa Barbara
Feb 18, 19 & 20 Yerba Buena Center, San Francisco
24-Feb Music Hall Center for the Performing Arts, Detroit
Feb 26, 27 & 28 Museum of Contemporary Art, Chicago
3-Mar University of Minnesota, Minneapolis
THE OzAsia Festival's stated aim of celebrating beauty and cultural diversity could hardly be better fulfilled than in Bahok, a stunning work from the acclaimed Akram Khan Company, receiving its first Australian performances. Adelaide Now Oct 2009
"It's the first time that Khan has choreographed a show in which he does not himself appear, and it seems likely to set a precedent. Neither he nor, indeed, his audience need worry, however, when his chosen dancers convey so much of his distinctive mercurial movement, whimsy and wisdom." The Independent

"Khan's choreography is adept at blending classical ballet and contemporary dance techniques, but it is the visceral speed and agility of kathak (his dance roots) that power the most amazing sections. In one, near the end, the dancers, arms frantically rotating like propellers, practically achieve lift-off. In a similar vein, Nitin Sawhney's brilliant score taps into spiritual and corporeal energies with an equal sense of excitement and elegance." The Times (London
bahok was originally a collaboration with the National Ballet of China, the first of its kind between a UK contemporary dance company and a state-funded national company in China. Featuring an original score by Akram Khan's long time collaborator Nitin Sawhney, bahok brings together a new company of eight dancers from Spain, Slovakia, India, South Korea, Taiwan (Republic of China) and South Africa. In one of this globalised world's transit zones, they come together. They try to communicate, to exchange their stories, their memories of home.
"The dancers are the writers of the show. They are the ones who bring the source material. We search for the little stories that they bring with them and exploring these short stories of each individual, we find a bigger story. That's what fascinates me, to explore these personal stories of these individuals on stage, in order to discover and reveal a more universal one." (Akram Khan)
bahok premiered in Beijing in January 2008, and gained rave reviews and international acclaim on its subsequent world tour. Following this success, bahok is embarking on its second tour in 2009/2010.
This adventure began in 2006 with the National Ballet of China. At that stage all that existed was the commitment to try something new, an enthusiasm for an idea and the ambition to convert this idea into something that could be beautiful and meaningful.Needless to say there were challenges in bringing together the resources of a large flagship national ballet company with that of a small independent contemporary troupe halfway across the world. There were obvious ones such as language, culture, movement styles, availability but also less obvious ones such as the hope for reinvention, developing new expectations and reflecting inner and outer aspirations. We had to learn a lot of new rules, demand more of ourselves and develop more sophisticated means of cooperation. Our team and that of the National Ballet of China were up to this task, and I'm extremely proud of what we collectively achieved. Collaboration for us is not just a means of artistic possibility but a great opportunity to learn from other cultures and disciplines. It is through this learning that I find the greatest satisfaction. Ironically, you end up both knowing more and less about yourself at the same time, but whatever happens it stops you from remaining static, from relying on familiar information and gives you a constant sense of motion. What could be better than that? Farooq Chaudhry | Producer
Artistic director/Choreographer Akram Khan
Composer Nitin Sawhney
Dramaturge Guy Cools
Co-producers: Sadlers Wells Theatre, London, British Council, The Liverpool Culture Company with Merseyside, Dance Initiative, DanceXchange, Birmingham, Theatre de La Ville, Paris, Tanzhaus NRW Dusseldorf, National Arts Center, Ottawa,
China Now, London