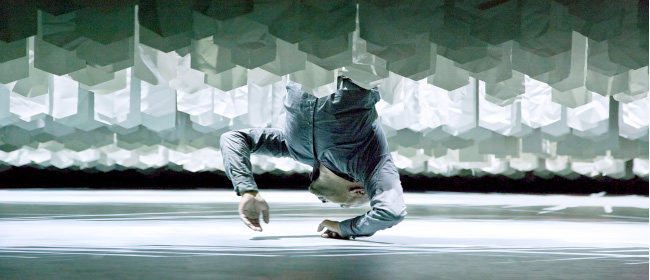 WINNER OF THE OLIVIER AWARDS IN THE CATEGORY BEST NEW DANCE PRODUCTION 2012
Available for limited touring in North America 
November/December 2014 and February 2015
 "Desh is a masterpiece, the best thing that he has ever done" – The Observer
"the most urgent, beautiful and confident work of his career" – The Guardian *****
"DESH is as transporting a piece of dance as I have ever seen. The first full-length solo contemporary work by Akram Khan – it is also his best show yet: poignant, thrilling, magical, moving and, throughout its perfectly judged 80 minutes, utterly transfixing." – The Telegraph 
DESH, meaning homeland in Bengali, is a very personal work and to date it's the most challenging and demanding of Khan's project. Created after a year of intense research both in the UK and Bangladesh, and performed during the year Bangladesh celebrates 40 years of independence, DESH explores the idea of transformation of body, land, identity and memory, while examining the contradictions of Khan's British-Asian identity. The artistic ambition for DESH is to produce a poetic and visual work that reflects the fragility, chaos and hope of the Bangladeshi society through Khan's own body and voice. For this solo performance, he has teamed up with Oscar-winning Chinese visual artist Tim Yip (production designer for Crouching Tiger, Hidden Dragon), fellow Sadler's Wells Associate Artist and lighting designer Michael Hulls, Indian writer and poet Karthika Nair and Olivier Award-winning composer Jocelyn Pook. 
 'Those transparent Dacca gauzes known as woven air, running water, evening dew.' (Agha Shahid Ali)
Akram Khan Company is supported by COLAS.  Co-produced by MC2: Grenoble, Curve Leicester, Sadler's Wells London, Théâtres de la Ville de Luxembourg, Concertgebouw Brugge. 
For more information: www.akramkhancompany.net