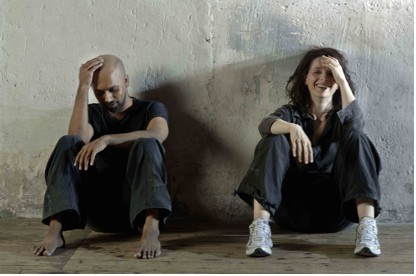 "you can almost hear the sensual static as the pair loop and curve,
like two magnets, resisting each other then snapping tight."
Evening Standard, UK, 19/09/08
"If we had to say in one word what we wish for our creation In-I, we would choose the word 'dare'. If we could add two more, we would definitely choose: 'the new'. Daring the new is why we said yes to each other. But can we reach each other? Can we try and get close? Conflicts, fear, needs and hopes can be walls that we have to face. However, in between two people, there's a third, the space in between the two, and it is in the search for the third that we discover who we really are. If the Greeks had 14 words to describe different ways of loving, how many do we experience?"
Juliette Binoche & Akram Khan
May 2008
Co-directed and performed by
Juliette Binoche & Akram Khan
Set Designer
Anish Kapoor
Composer
Philip Sheppard
Lighting Designer
Michael Hulls
Costume Designer
Kei Ito
Dramaturge
Guy Cools
Rehearsal Director/Dance Coach (Juliette Binoche)
Su-Man Hsu
Producer
Farooq Chaudhry
Juliette BinocheAn international star of extraordinary, almost otherworldly beauty, French actress Juliette Binoche was born in Paris. The daughter of a sculptor/theater director and an actress, Binoche studied acting at the National School of Dramatic Art of Paris. Following graduation, she followed her mother's footsteps and became a stage actress, occasionally taking small parts in French feature films.
Binoche first earned recognition in 1985 for playing a modernized, teenaged version of the Virgin Mary in Jean-Luc Godard's controversial "Je Vous Salue, Marie/Hail Mary." The actress became a bona fide French star the same year with an acclaimed performance in André Téchiné's "Rendez-Vous." And though the darling of the 1985 Cannes Film Festival, Binoche gained true international acclaim when she played Tereza in Philip Kaufman's "The Unbearable Lightness of Bein" in 1988.
Binoche was cast in a lead role in filmmaker Leos Carax's chilling "Mauvais Sang/Bad Blood." Binoche appeared in his "Les Amants du Pont-Neuf," a film they began in 1988 finish in 1991.
Binoche had great success starring opposite Jeremy Irons in "Louis Malle's Damage" (1992). The same year, the actress appeared with future English Patient co-star Ralph Fiennes in a new film version of "Wuthering Heights," and followed that with the lead role in Krzysztof Kieslowski's "Blue." (She also appeared briefly in the trilogy's other installments, "Red" and "White").
Binoche returned in 1995 with "Le Hussard sur le Toit/The Horseman on the Roof." In 1996, she earned further international recognition with a Best Supporting Actress Oscar (as well as a host of other awards) for her role in "The English Patient." Returning to her native France amidst a golden haze of critical acclaim, Binoche appeared in the same year's "Un Divan a New York," a romantic comedy in which she starred opposite William Hurt. In 1998, she again collaborated with director Téchiné, this time on the romantic drama "Alice et Martin."
Revered as near royalty by the French press (who often simply refer to her a La Binoche) and a beloved star worldwide, Binoche's remarkable second wind found her popularity soaring and her screen presence more powerful than ever. Binoche's daring and intense performance as 19th century literary icon George Sand in the drama "Children of the Century" indeed impressed audiences and critics.
Binoche was cast in "The Widow of Saint-Pierre" The redemption-themed drama perform smashingly at the international box-office and also found it's star earning a Cesar nomination for Best Actress.
A teaming with filmmaker Michael Haneke resulted in the intersecting lives drama "Code Unknown" (2000). Binoche gave a captivating performance that same year in the art-house hit "Chocolat." Cast as the free-spirited owner of a chocolate shop located in a small French town, the dedicated actress actually prepared for the role by learning to make chocolate at a popular Paris sweet shop. The film was an international runaway hit, and the beloved starlet was nominated for Best Actress awards across the globe. Following a lighthearted performance opposite French icon Jean Reno in the romantic comedy "Jet Lag," Binoche most recently appeared with American star Samuel L. Jackson in director John Boorman's political oriented drama "In My Country."
Juliette can be seen next in "Bee Season" with Richard Gere slated for a 2005 release.She is currently filming five new projects including Anthony Minghella's, "Breaking and Entering," opposite Jude Law; Michael Haneke's, "Cache;" Abel Ferrara's, "Mary," opposite Matthew Modine and Forest Witaker; and "Quelques jours en Septembre," opposite John Turturro.
Juliette currently lives in France with her two children.
Akram Khan is one of the most acclaimed choreographer of his generation working in Britain today. Born in London into a family of Bangladeshi origin in 1974, he began dancing at the age of seven. He studied with the great Kathak dancer and teacher Sri Pratap Pawar, later becoming his disciple. He began his stage career at the age of 14, when he was cast in Peter Brook's legendary production of Mahabharata, touring the world between 1987 and 1989 and appearing in the televised version of the play broadcast in 1988.
Following later studies in contemporary dance and a period working with Anne Teresa de Keersmaeker's Brussels based X-Group project, he began presenting solo performances of his work in the 1990s, maintaining his commitment to the classical kathak repertoire as well as modern work. Among his best-known solo pieces are: Polaroid Feet (2001), Ronin (2003) and Third Catalogue (2005).
In August 2000, he launched his own company, which has provided him with a platform for innovation and an increasingly diverse range of work evolved in collaboration with artists from other disciplines, ranging across theatre, film, visual arts, music and literature.
Among his most notable company works are Kaash (2002) a collaboration with artist Anish Kapoor and composer Nitin Sawhney, ma (2004), created for seven dancers, four musicians and accompanied by a text by acclaimed writer Hanif Kureishi, for which he received a South Bank Show Award (2005); zero degrees (2005), a collaboration with dancer Sidi Larbi Cherkaoui, sculptor Antony Gormley and composer Nitin Sawhney, premiered at Sadler's Wells.
As Choreographer-in-Residence and later as an Associate Artist at the South Bank Centre, he presented a recital with Pandit Birju Maharaj and Sri Pratap Pawar; and A God of Small Tales, a piece for mature women for which he again collaborated with writer, Hanif Kureishi. He remained an Associate Artist at the South Bank Centre until April 2005, the first non-musician to be afforded this status, and is currently an Associate Artist at Sadler's Wells.
In 2007, he will be touring to Australia, Japan, France, Hong Kong, South Korea, USA, Netherlands, Singapore, Luxembourg, Spain, Greece, Sweden, Finland, Argentina, Taiwan, Germany, Italy and Belgium.
One of his most recent projects is Variations, a collaboration with London Sinfonietta to celebrate the 70th birthday of Steve Reich, which premiered in Birmingham in March 2006, and tour to Europe and America later this year. The other is Sacred Monsters, a major new work featuring ballerina Sylvie Guillem, with additional choreography by Taiwanese choreographer Lin Hwai Min, which premiered at Sadler's Wells in September 2006. More recently, he made a new work, Lost Shadows, as guest choreographer, for Cloud Gate Dance Theatre, Taiwan's first contemporary dance company, which premiered in Taiwan in March 2007.
Akram Khan was also invited by Kylie Minogue in summer 2006 to choreograph a section of her new Showgirl concert, which opened in Australia in November 2006, and toured to the UK (London and Manchester) in January 2007.
Akram Khan has been the recipient of numerous awards, including the Jerwood Foundation Choreography Award (2000); 'Outstanding Newcomer to Dance Award' from both the Dance Critics' Circle (2000) and Time Out Live (2000); 'Best Modern Choreography' from the Dance Critics' Circle (2002); the International Movimentos Tanzpreis (2004) for 'Most Promising Newcomer in Dance', a South Bank Show Award (2005) and was nominated for a Nijinsky Award for Best Newcomer (2002).More recently, he was awarded the 2005 Critics' Circle National Dance Awards for Outstanding Male or Female Artist (modern). And Zero Degrees – Akram Khan/ Sidi Larbi Cherckaoui/ Antony Gormley/ Nitin Sawnhey – was nominated for the 2006 Laurence Olivier Awards (Best New Dance Production).
In 2004 he received an Honorary Doctorate of Arts from De Montfort University for his contribution to the UK arts community, and was awarded an MBE for his services to Dance in 2005.
Anish Kapoor was born in Bombay in 1954 and has lived in London since the early 70's when he studied at Hornsey College of Art and Chelsea School of Art Design.
Over the past twenty years Anish Kapoor has exhibited extensively in London and all over the world. His solo shows have included venues such as Kunsthalle Basel, Tate Gallery and Hayward Gallery in London, Reina Sofia in Madrid and CAPC in Bordeaux. He has also participated internationally in many group shows including the Whitechapel Art Gallery, The Royal Academy and Serpentine Gallery in London, Documenta IX in Kassel, Moderna Museet in Stockholm and Jeu de Paume and Centre Georges Pompidou in Paris.
Anish Kapoor was awarded the 'Premio Duemila' at the Venice Biennale in 1990, the Turner Prize Award in 1991 and was awarded an Honorary Fellowship at the London Institute in 1997 and a CBE in 2003. He is represented by the Lisson Gallery, London, Barbara Gladstone Gallery, New York and Galleria Continua and Galleria Massimo Minini, Italy.