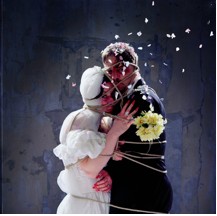 "This exhilarating devised production, directed by Liam Steel, is the most accomplished to date…the performers astound in their ability to perform complex choreography while acting with complete emotional commitment." Karen Fricker, The Guardian
COISCÉIM, under their artistic director David Bolger, has been creating and presenting cutting-edge and innovative contemporary dance since 1995 and has established itself as the premier dance company in Ireland. The name, from the Irish word for footstep is pronounced 'Kush Came".
In 2005, Bolger invited the ex-DV8 performer and co-creator/co-director of STAN WON'T DANCE, Liam Steel, to direct KNOTS based on the writings of R.D. Laing, the radical Scottish pyschoanalyst. What emerged was an award-winning full-evening (70 min) work bursting with high-octane choreography in a show which is often brutal, touching and at times hilarious.Six performers struggle with the inherent tangle that is the complexity of human relationships. In Laing's book "Knots" the dynamic twists, turns and convolutions in our relationships are played out in dialogue scenarios. The director and cast used these scenarios as their starting point to create a work which fuses text and movement to the same ground-breaking effect as Steel's SINNER. KNOTS was an immediate and enormous success with both the public and the critics, winning "Best Production Dublin Fringe Festival 2005".