MNOZIL BRASS
Not many brass ensembles can claim the Canadian Brass as rabid fans, but Mnozil can.  Not many brass ensembles can claim to have performed on the soundtrack of the latest "Sherlock Holmes" film, but Mnozil can.
And not many brass ensembles can claim to have a YouTube search produce more than 1,800 results, with the first four videos culminating in more than 5 million hits…But Mnozil can.
These seven musicians from Austria have the exacting talent and exciting repertoire that makes brass music as accessible and entertaining as it is. Known and admired since 1992 by professional and student brass musicians around the world, as well as countless audience members and critics from Moscow to Tokyo and New York to Lawrence, KS.  The secret weapon that endears everyone to Mnozil Brass is their intelligent humor and impeccable timing that is the hallmark of every performance.
A Mnozil Brass performance can be a journey that you wish would never end. It can range from a haunting arrangement of the theme from "Psycho", to a stirring "William Tell Overture", to a sweet rendition (including a capella) of Queen's "Bohemian Rhapsody".  Or how about Glenn Miller's "Moonlight Serenade"? Or by special request in a concert last season, the KU Fight Song when their team was in the Final Four.
Using only music and non-verbal physical comedy to create the evening, comparisons of their humor and stage presence have been flatteringly made to the great silent comedians like Buster Keaton and Laurel and Hardy. More contemporary references have included Monty Python and Jonathan Winters.
Mnozil Brass counts thousands of fans in the United States, and those who have presented them have become boosters of the group.
Tech?  They are a dream.  The ideal stage size for a typical show is 25'x13′. Normally, general/concert lighting is all that is necessary. Depending on the size and acoustic quality of the house, they rarely use any sound amplification (and if it is necessary, it is only a few stand mics across the front of the stage).
They like to get on stage for a few minutes about an hour before the doors open.  And that's it.  Oh, and they like to be fed…
Better than any more words, following are a few video links that give a better idea of who and what Mnozil Brass is and why they attract the attention that they do. (And be sure to read the comments after each video!!)
Bohemian Rhapsody -1,757,017 hits:  http://www.youtube.com/watch?v=hBLm747tyn0
William Tell Overture – 1,104,628 hits: http://www.youtube.com/watch?v=5_srdB2JGBI
Lonely Boy – 1,259,874 hits: http://www.youtube.com/watch?v=eYRMbj6U2Ww
Green Hornet (Kill Bill) – 968,861 hits: http://www.youtube.com/watch?v=xhjO_H004v8
Finally, their website: http://www.mnozilbrass.at/en/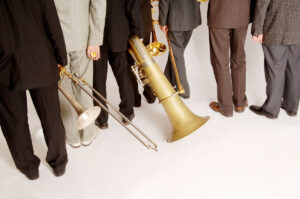 An ensemble with a difference! This ensemble entertains audiences with a superb blend of virtuoso musicianship, unusual concert items and off-beat humour. If you want to know what to expect, expect the unexpected."   British Bandsman
"These musicians are absolutely brilliant on their instruments which you almost don't realize because you're laughing so hard.  This is supreme and high-quality entertainment." Niederösterreichische Nachrichten
October 12-November 3, 2013 (East/South)
February 27-March 9, 2014 (West/Midwest)