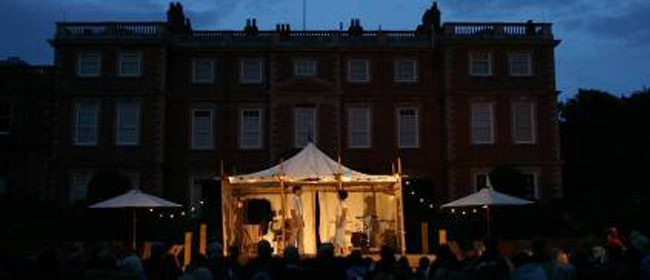 SHAKESPEARE'S GLOBE ON TOUR
In fall 2011 Shakespeare's Globe brings its unique On Tour program to the US, reviving a hit from summers 2009 and 2010: The Comedy of Errors. The travelling players breathe new life into one of Shakespeare's best loved comedies with a stripped down style, delivering theatre at its bawdy, brilliant best.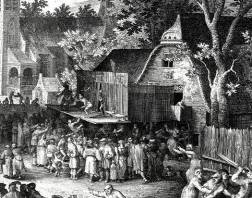 Shakespeare's Globe on Tour reinvents Elizabethan touring theatre for the 21st century. Using a stage design inspired by images from the time, the Globe's travelling players recreate all the fun and excitement of early theatre. Just as with the old King's Men, they don't perform in theatres but in a plethora of picturesque and historically resonant settings.
"The Globe was born out of a touring company culture, and that culture remained vital to it while it flourished. We are delighted to be exploring again the tradition of taking Shakespeare into non-theatrical spaces."
Dominic Dromgoole, Artistic Director of Shakespeare's Globe

FROM THE AUDIENCES:
'The performance is one I will never forget'
….Rebecca Day, Leeds Castle, Kent.
'It was truly fabulous. So stimulating, it almost changes you as a person'
Sylvia Hope, Richmond, Yorks.
FROM THE PRESS:
"…bursting with physical energy and touching realism, passion, intelligence and promise."
The Scotsman
"… with tight, fluent team-work and much nifty doubling, the play is brought to muscular life by just eight actors."
The Independent
FROM THE VENUES:
"An unmitigated success!"
Victoria Wallace, Managing Director of Leeds Castle
"We really enjoyed having [the show] at Lydiard Park. Fantastic performance and lots of excellent feedback from the audience."
Emma Valentine, Lydiard Park, Swindon
ABOUT THE PLAY

Take one pair of estranged twins (both called Antipholus) and one pair of twin servants (both called Dromio), keep them in ignorance of each other and throw them into a city with a reputation for sorcery and you have the chief ingredients for theatrical chaos. One Antipholus is given gold in the street and invited to dinner by a woman who thinks she's his wife; the other is barred from his own house and rebuffed by his jeweller. Caught in between, the Dromios are soundly beaten for disobeying each other's orders.
Fast-paced, hilarious and seemingly irreverent, the young William Shakespeare explores themes in this comedy that recur again and again in his later work; mistaken identity, coincidence and the importance of family.

Available for US touring November/December 2011