POLISH STATE FOLK SONG AND DANCE ENSEMBLE
TECHNICAL REQUIREMENTS
As of July 2007
For updated information, contact 2LUCK CONCEPTS – info@2luck.com or 518.756.1852
THIS IS NOT A YELLOW CARD ATTRACTION
The following Technical Requirements for MAZOWSZE, hereafter referred to as "Company," are an integral part of the contract and as such should be read carefully, signed and returned with the 2LUCK CONCEPTS Contract in order to have a fully executed agreement.  No item may be waived or changed, nor any additions or deletions made without the express written consent of 2LUCK CONCEPTS.
LOCAL PRESENTER AGREES TO FURNISH AT OWN EXPENSE THE FOLLOWING:
STAGE REQUIREMENTS:
1.              Ideal performance area is forty-six (46) feet wide and forty (40) feet deep from front curtain to backcloth with additional twelve (12) feet of wing space on each side with three (3) feet of space between backcloth and back wall free of all obstructions for fast cross-overs.  (Minimum performance area is thirty-two (32) feet wide by thirty (30) feet deep).
2.              IT IS MANDATORY THERE BE A LADDER OR LIFT ON STAGE WHEN COMPANY ARRIVES AT THEATER. LADDER OR LIFT MUST BE THIRTY (30) FEET HIGH IN ORDER TO REACH ALL STAGE LIGHTS FOR PLACING OF GELS AND FOCUSING.
3.              Stage floor must be of wood, preferable sprung to meet requirements defined by American Guild of Musical Artists.  Under no circumstances will company dance on concrete flooring or on a wood floor laid directly over concrete.  Surface must be smooth and even, without shellac, wax, or polish.  In advance of company's arrival at theater, stage floor must be thoroughly washed with plain hot water without soap.  All holes must be stopped up.  Nails, splinters, etc. must be removed.  Most dances are performed in soft, leather boots and floor must not be slippery.
4.         Air temperature of stage area may not be less than 70 degrees Fahrenheit or more than 90 degrees Fahrenheit.  Union regulations of dancers prohibit performances when air temperature is in variance with these limits.
5.         Company travels with one full truckload of costumes, props, and equipment. Stage pipes, stage floor and loading area MUST BE FREE AND TOTALLY CLEAR OF ANY HOUSE EQUIPMENT except for black legs, borders and lighting (as indicated in company's light plot) in order to receive company's own equipment with most efficient use of time and manpower.
6.         Presenter shall guarantee security of company's equipment in theater at all   time from load-in until take-out.
DRAPERY:
1.         PRESENTER shall provide:
–front theater curtain (desired and recommended but not necessary);
–four (4) sets of black legs and borders which should be flat, and smooth     without fullness or pleating;
–white or light-blue cyclorama or sky cloth;
–full stage black rear curtain hung in front of cyclorama
PIANO REQUIREMENT:
1.         No piano needed.  If there is a piano onstage, it should be removed prior to load-in.
SCENERY:
1.              Company employs several small pieces of set decoration, such as compositions made of artificial flowers to be hung in front of the cyc or back curtain (weight approx. 60lbs) and four minor flower compositions (weight approx. 25lbs each) to be hung on the side wings.
2.              Optional but desired: A white screen (ideally 33 feet by 33 feet) plus multimedia projector and PC with PowerPoint.
LIGHTING:
1.         Company makes no unreasonable demands with regard to lighting, but wishes PRESENTER to bear in mind most effective presentation depends on adequate theatrical-dance lighting. A great deal of light (predominately white light) is required – approximately 1.5-2KW per 1 square meter of stage. See attached light plot for reference.  Final light plot will be forwarded at least six weeks before actual performance date.
Note:  Minimum power requirement for company is 400 amps, three-phase.
2.         PRESENTER must supply full stage lighting including front-of-house lighting (overhead spots and borders, torms, cyc lighting, specials and backlighting:  all board controlled and colored) according to company's light plot.  Every effort should be made to hang plot with house equipment prior to arrival of company  stage manager at theater who will then be able to concentrate on focusing and last-minute lighting details.
3.         Two (2) "Super Trouper" or "Trouper" follow spots are required.  "Touperettes" are usually inadequate with other stage lighting.
Please be certain that all equipment is in working order prior to arrival of the Company so time is not lost in preparing for the performance.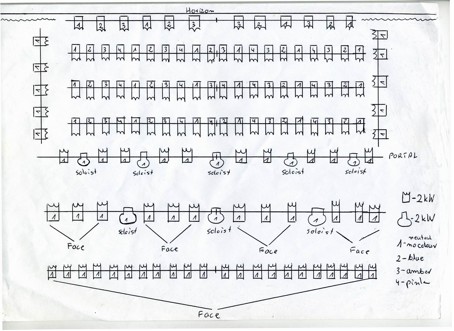 SOUND REQUIREMENTS:
1.         AMPLIFICATION EQUIPMENT must be agreed with the Company, however it must be not lower than 2 x 6 KW. The system should be prepared prior to the arrival of the Company's technical staff and so configured that the sound coverage is adequate everywhere in the room including the place where the orchestra is to be situated (so that the acoustic coupling of the microphones with the systems could be reduced as much as possible). The system should be free from noises and hums, the loudspeakers should not be situated directly on the stage and the fluctuations of the voltage powering the stage should not exceed 5%.
a.         The sound control board that is preferred during the production is YAMAHA M7CL-48 and the PRESENTER should provide such a sound panel; it is possible to exchange the equipment for other brands, subject to a prior agreement with the Company.
b.         The Orchestra uses microphones for each instrument individually, that is why it is necessary to prepare at least two 16-channel multicores, one for the string section and the other for the wind instrument section and the drums.  The length of these multicores should make it possible to place them near the orchestra.
c.          Another (third) 16-channel multicore should be placed near the stage, which would make it possible to connect microphones of the stage where the Ensemble dances and sings. Of course a sufficient number of cables to connect the microphones is needed.
d. The Ensemble also needs three audio monitors. Two of them must be located on the right and on the left side of the stage, about six (6) feet high and must be placed at the mid depth of the stage. The third monitor is located backstage in the place specified by the Company and is used for hearing through purposes by the chorus that sings in an "off stage" mode.
The monitor line should be equipped with a 31-band graphic equalizer. These lines must be managed from the main console in the case when a YAMAHA M7CL-48 console is used; in other cases this should be agreed with the Company.
2.         MICROPHONES:
a.     The in-put list and the types of microphones used by the Company are given below and may be changed subject to prior agreement with the Company.
Input
Instrument / input signal
Microphone
Notice
1
Violin
Audiotechnica ATM35
2
Violin
ATM35
with preamp
3
Violin
ATM35
with preamp
4
Violin
ATM35
with preamp
5
Violin
ATM35
with preamp
6
Violin
ATM35
with preamp
7
Violin
ATM35
with preamp
8
Violin
ATM35
with preamp
9
Viola
ATM35
with preamp
10
Viola
ATM35
with preamp
11
Cello
ATM35
with preamp
12
Cello
ATM35
with preamp
13
Double-Bass
ATM35
with preamp
14
Flute
AudiotechnicaAT892CW
with preamp
15
Oboe
ATM35
with preamp
16
Clarinet
ATM 35
with preamp
17
Clarinet
ATM 35
with preamp
18
Trombone
ATM 35
with preamp
19
Horn
ATM 35
with preamp
20
Trumpet
ATM 35
with preamp
21
Trumpet
ATM 35
with preamp
22
Cymbale
ATM 35
with preamp
23
Bass Drum
AKG D112 /ATM 25
24
Oh Drum
Audiotechnica AT 4041
Mic stand
25
Timpani
Audiotechnica AE3000
Mic stand
26
27
28
29
Choir L
Neumann KM 184
Mic stand
30
Choir R
Neumann KM 184
31
Stage ambient  L
Audiotechnica AT 8315B
Shot gun / mic stand
32
Stage ambient  R
Audiotechnica AT 8315B
Shot gun / mic stand
33
Front mic L
AE 3000
Mic stand
34
Front mic C
AE 3000
Mic stand
35
Front mic R
AE 3000
Mic stand
36
Floor mic L
Crown PCC 160
37
Floor mic LC
Crown PCC 160
38
Floor mic C
Crown PCC 160
39
Floor mic CR
Crown PCC 160
40
Floor mic  R
Crown PCC 160
41
Wireless Violin
ATM35
42
Wireless Violin
ATM35
43
Wireles D-Bass
ATM35
44
Wireless Clarinet
ATM35
45
Wireless Cymbale
ATM35
46
47
Wireless Hand mic
Shure SM58

Audiotechnica AE500

Mic stand
48
Wireless Hand mic
-"-
Mic stand
ST1
MD/CD
3.         An intercom headset system with eight (8) headsets in good working order for communication between company stage manager (preferably stage right), light board operator(s), sound engineer (backstage), house sound operator, and follow spots (2).  Headsets or cue light system is needed for Fly Personnel.
STAGE HAND REQUIREMENTS:
1.         PRESENTER is responsible for providing at its own expense all stagehands (and loaders for load-in and take-out) as required by local union regulations.  Where no union rules are in effect, PRESENTER must arrange for and pay requisite number of non-union stagehands and loaders as necessary.
FOR LOAD-IN, SET-UP, and LOAD-OUT:
2-loaders (or according to local union rules)
5-carpenters (may be reduced)
5-electricians
1-props
1-sound engineer
4-wardrobe personnel (on first day of performance only)
PRESENTER agrees to provide and pay for all Running Crew (including two (2) follow spot operators).  In theaters where union regulations are in effect, minimum requirements will prevail, and Company technical director will forward actual breakdown of Running Crew requirements to all theaters at least six weeks prior to performance date.
2.         Company travels with the following technical personnel:
1- technical director (plus 1 US technical director)
1-electrician
1-sound technician
4-dressers
2-drivers/assistants
3.     Load in and set-up: approximately 4-6 hours prior to arrival of performers, who arrive approximately 2.5 hours before the start of the performance.
4.     Company rehearsal lasts approximately 1.5 hours.  It usually takes place in ordinary light, however, the stage must be quite bright and illumination of the orchestra pit is necessary.
5.     LOCAL SOUND TECHNICIAN AND ELECTRICIAN SHALL BE PRESENT DURING THE REHEARSAL AND THE PERFORMANCE.
6.     Duration of performance: approximately 2 hours, including a 20 minute intermission.
7.     Load out approximately 2.5 hours.
ORCHESTRA PIT:
1.         Company performs with a small orchestra.  An orchestra pit for 23 musicians is required.  If theater is not equipped with pit, a space measuring twelve (12) feet by twenty seven (27) feet must be constructed on floor of theater in front of first set of seats, separated from public by a rail placed at height of three (3) feet.  SPACE MUST BE PLACED WITH EXCELLENT SIGHT-LINES TO STAGE AS CONDUCTOR CUES ENTIRE SHOW FROM PODIUM.  Alternately, if the stage is large enough, Company may decide to place the orchestra on stage. Any PRESENTER whose theater is without normal orchestra pit must obtain written approval from 2LUCK of any plan to accommodate orchestra's musicians, before contract is signed.
2.         PRESENTER shall provide 17 music stands, 23 straight-backed chairs in orchestra pit or playing space.  One conductor's podium and separate music stand are also required.
DRESSING ROOMS:
1.         All dressing rooms shall be situated close to the stage and must have chairs, make-up tables, mirrors with mirror lights, clothes racks with hangers.  All dressing rooms must be clean with access to adequate rest room facilities; hot and cold running showers are required.
2.              Following is a breakdown of dressing rooms:
–one large room (or properly adapted large space) for 40 male dancers and singers (or several smaller rooms, if necessary);
–one large room (or properly adapted large space) for 40 female dancers and singers (or several smaller rooms, if necessary);
–one room for artistic director near the stage, if possible;
–one room for orchestra members and conductor, near orchestra pit, if possible;
–one room for administrative staff, if available;
–one room for doctor and masseur, if available
Note:  An area is needed for pressing costumes.  Three irons and ironing boards must be available with electrical outlets nearby. PRESENTER must provide three (3) people to help iron costumes.
STANDBY MUSICIANS
1.         Company has no requirement for local musicians, but if any local union
regulations require standby musicians be employed, this expense shall be sole                                   responsibility of PRESENTER.
AUDITORIUM AVAILABILITY
1.         Company requires use of theater for load-in no later than 8:00am on performance day.
2.              Company is to be sole occupant of theater from beginning of load-in until end of take-out unless written agreement is obtained from Company permitting use of theater by other groups or individuals.
PROPERTY OF COMPANY/PARKING SPACE AND PERMITS
1.              Costumes, props, musical instruments, as well as a small reserve of curtains and scenery are packed in approximately 100 aluminium boxes and sacks. The weight of the complete Company property is 4.5 tons.
2.         Parking at loading dock for Company's tractor-trailer (approx 60 feet long) available not less than 30 minutes before pre-arranged load-in time and 30 minutes before end of performance.
3.         At back stage entrance for Company's staff car and Company's two 45' buses before, during and after performance and rehearsal, if any.  These vehicles will arrive 3 hours prior to performance and remain until 1 hour after load-out.
COMPANY SEATS
1.         Eight (8) pairs of complimentary seats in center of orchestra section of theater are to be held for exclusive use of Company for each performance.  Company can be asked to release un-used tickets two hours before curtain time.
MEDICAL ATTENTION
1.         PRESENTER agrees to furnish Company names of a General Practitioner,                                              Orthopedic Specialist, and local emergency hospital facility.
2.         This information should be returned at same time as stage information, so it may be included in tour itinerary.  These services should be notified of the possibility of use by Company and should be as convenient to theater and hotels as possible.
HOSPITALITY
1.         As the Company will be spending a large portion of the day at the theater,
PRESENTER must provide coffee, tea, soft drinks, juices, bottled water, and light refreshments such as deli platters, fruit, yogurt, etc. These amenities should be provided in ample quantities to serve 80 people.
2.         If the Company is obligated to two performances in one day, PRESENTER must provide a hot meal between the performances for the Company and its staff.  Details TBD.
3.         Bottled water should be replenished 1/2 hour before the performance.
IF ANY OF THE SERVICES AND/OR FACILITIES INDICATED IN THIS AGREEMENT ARE NOT PROVIDED BY PRESENTER AND COSTS MUST THEREFORE BE INCURRED BY COMPANY, PRESENTER WILL REIMBURSE COMPANY FOR THESE COSTS, NOT LATER THAN DAY OF PERFORMANCE.
ACCEPTED AND AGREED:
________________________________________
Signature                                               Date
________________________________________
Title / Organization
Please fill out the following questionnaire
1)     City_____________________________________________________________________
2)     Dates(s) and time(s) of Concert(s)__________________________________________________________
3)     Presenter_____________________________________________________________________
Address_______________________________________ Zip_____________________________________
Theater Name, Address, Zip_______________________________________________________________
Capacity _____________________________________________________________________
4)     Name of Stage Manager__________________________ Telephone_______________________________
Backstage Address______________________________ Telephone_______________________________
Home Address__________________________________ Telephone_______________________________
Email Address__________________________________ Cell Phone_______________________________
5)     Name of Presenter representative responsible for Contract and arrangements
_____________________________________________________________________
Business Address_______________________________ Telephone_______________________________
Home Address__________________________________ Telephone_______________________________
Email Address__________________________________ Cell Phone_______________________________
6)     Presenter's representative to be notified upon arrival (if different from #5)
_____________________________________________________________________
Business Address_______________________________ Telephone_______________________________
Home Address__________________________________ Telephone_______________________________
Email Address__________________________________ Cell Phone_______________________________
7)     Names, locations, and telephone numbers of recommended hotels:
_____________________________________________________________________
_____________________________________________________________________
8)     Names, locations and telephone numbers of recommended restaurants open after the concert:
_____________________________________________________________________
9)     Names, locations, and telephone numbers of grocery stores or markets open after the concert :
_____________________________________________________________________
10)   Names, locations and telephone numbers of recommended physicians:____________________________
_____________________________________________________________________
11)   Names, locations and telephone numbers of recommended dentists:______________________________
_____________________________________________________________________
12)   Names, locations and telephone numbers of nearest hospitals:__________________________________
_____________________________________________________________________
13)__ Names, locations and telephone numbers of local companies with touring coaches (MC 9s, Eagles, or Prevosts):
_____________________________________________________________________