Joyful. Bold. Sexy. Funny. Elegant. Explosive. Riveting.
Available for touring Spring 2014
"This madly funny production made me laugh so hard I thought I'd crack'd a rib…If I had my way, The Feign'd Courtesans would have moved uptown and run for at least a year…The good news is The Queen's Company will be presenting Antony and Cleopatra, and I wouldn't miss it for the world. Bearded or barefaced, these ladies act up a storm." Terry Teachout, The Washington Post
"This gender-bending romp through Shakespeare's classic is one of the best productions of the bard I've seen this side of the Atlantic."  Rachel Brody, The British Theatre Guide on Twelfth Night
"Never did we have a raunchier or more spirited production of The Taming of the Shrew…this is a remarkable interpretation of Shakespeare's timeless comedy."   Irene Backalenick, Backstage
"The Queen's Company deserves the following it has established. It is refreshing to see a company willing to take risks and committed to its vision…The company is set to take on Shakespeare's Much Ado About Nothing this fall. Make plans now, as you don't want to miss any chance to see these amazing women in action." Christopher Byrne, Gay City News
The Queen's Company weds a love of language to a love of life, weaving inspiration from history and world cultures into the fabric of our classical productions, celebrating the poly-cultural American voice. Our work is known for its exquisite use of language, bold physicality, creative storytelling and artistic playfulness.
"There is a place in classical theatre for more female actors. We have a wealth of untapped talent. Giving classically trained female actors the opportunity to play male roles opens up a diversity of voices and insights, enriching our understanding and enjoyment of classical plays. There are reasons why Shakespeare is the most produced playwright in America. His characters defy our traditional ideas of ethnicity and gender, and call for a diversity of experience that transcends our current casting practices. We can only hope that other theatres will follow our lead in giving more stage time to our female actors in a wider range of roles." – Rebecca Patterson, Artistic Director
TQC advocates for non-traditional gender casting in classical theatre, either through all-female casts or mixed cross-gender casting. The critical success and popularity of the productions proves that audiences and artists are ready for change in traditional casting practices.
_______________________________________________________
Sir Patient Fancy – by Aphra Behn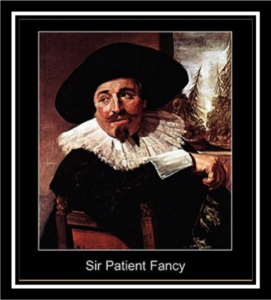 Written in 1678 by Aphra Behn, England's first professional female playwright, Sir Patient Fancy is a stellar example of the early Restoration Comedy of Intrigue.   The Queen's Company past productions of Aphra Behn's work have been a hit with NYC audiences, resonating across the ages in their frank treatment of female aspirations, money and sexuality.
Smart, raunchy, witty and surprisingly sincere, Sir Patient Fancy is one of the great undiscovered treasures of classical theatre.
Sir Patient Fancy is a wildly entertaining Restoration romp through the adventures of two young women determined to defy their parent's marriage plans and marry the boys they adore.
Amorous fops, lusty widows, mistaken beds and narrow escapes are some of the many delights packed into this exciting ride through the backstreets and bedrooms of London's wild and wooly past.
Aphra Behn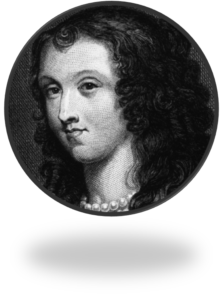 Very little is known about the life of Aphra Behn. What we do know is she was born in 1640 near Canterbury to parents of modest means, travelled to Surinam and back, was married and widowed, and spent time in Antwerp working as a spy for King Charles II before ending up in debtor's prison when the King refused to pay her wages.
Once freed, she began her prolific writing career, becoming one of the most successful and popular playwrights of the early Restoration. She died in 1689 and was buried in Westminster Abbey.  Unfortunately her work fell out of favor during the intervening years of Victorian prudishness and misogyny, thankfully we can now again enjoy the power of her plays to speak to and entertain our modern age.
In her 1928 essay,  A Room Of One's Own, Virginia Woolf wrote:
"All women together ought to let flowers fall upon the tomb of Aphra Behn which is, most scandalously but rather appropriately, in Westminster Abbey, for it was she who earned them the right to speak their minds. It is she – shady and amorous as she was – who makes it not quite fantastic for me to say to you tonight: earn five hundred a year by your wits."