Aakash Odedra Company
RISING
NORTH AMERICAN TOURING 11 April – 5 May, 2018
"British Indian dancer Aakash Odedra is simply breathtaking." Paula Citron, Globe and Mail, Toronto
Aakash Odedra is a nominee for a 2016 "Bessie" in the category of "Outstanding Performer" for RISING at the Skirball Center in New York.
The first production of Aakash Odedra Company, RISING, is an astonishing hit. It is an evening of work performed by Aakash, featuring solos created by Sidi Larbi Cherkaoui, Akram Khan and Russel Maliphant and features lighting by Michael Hulls and Michael Cessa.
All use Aakash's background in Kathak and Bharatanatyam to create  a  new  flavor of contemporary dance. Aakash also presents a contemporary Kathak with his own choreography. The production has won numerous awards including   the 'Danza e Danza Award' (Italy), Best Male Performance 'Dora Award' (Canada), 'Audience Award' at Dance Week (Croatia) and 'Most Original Exploration of One Segment of Theatrical Language' at the Novi-Sad Festival (Serbia).
BIOGRAPHY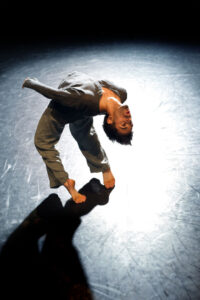 Aakash was born in Birmingham and trained in the classical Indian dance styles of Kathak (Nilima Devi, Leicester and Asha Joglekar, India) and Bharat Natyam (Chitraleka Bolar, Birmingham and Chhaya Kantaveh, India). His early development in the United Kingdom saw support from Sampad (including support in a development bursary) and Akademi (through a major choreographic bursary).
In 2009, Aakash performed a solo choreographed by Kumudini Lakhia titled Maati Re at the Svapngata Festival at Sadler's Wells curated by Akram Khan. Khan followed this with a period of mentorship, allowing Aakash to develop contemporary movement. He took part in the European Network of Performing Arts' 2010 ChoreoLab in Serbia through Dance Umbrella. Also in 2010, he performed a duet with Sanjukta Sinha choreographed by Kumudini Lakhia titled Tatha. He incorporates that training in a unique synthesis with contemporary dance, both in his choreography and his creations with other choreographers.
Aakash Odedra founded his Company in 2011 as a vehicle for commissioning solos and for him to develop his own choreographic work. His debut full length solo Rising featured new short works created on him by Akram Khan, Sidi Larbi Cherkaoui and Russell Maliphant. As choreographer, he was commissioned to create a piece for "James  Brown: Get on the Good Foot" (Apollo Theater, New York ) and the Opera God's Little Soldier (Theater Freiburg), The Queen's Diamond Jubilee celebrations and the closing of the London Cultural Olympiad. 
Nritta (Kathak) – Choreographed by Aakash Odedra
Music arranged by Aakash Odedra
In The Shadow Of Man – choreographed by Akram Khan
Lighting by Michael Hulls
Music by Jocelyn Pook
Rehearsal Directors Jose Agudo and Lewis Major
CUT – choreographed by Russell Maliphant
Lighting by Michael Hulls
Music by Andy Cowton
Rehearsal Director Lewis Major
Constellation – choreographed by Sidi Larbi Cherkaoui
Lighting by Willy Cessa
Music by Olga Wojciechowska
Rehearsal Directors Paul Zivkovich and Lewis Major
ADDITIONAL ACTIVIES:
Kathak workshops
Contemporary dance workshops