Mark Bruce Company

NORTH AMERICAN TOURING mid Oct – mid Nov 2017
Sky Arts South Bank Award for Dance
Three Critics Circle National Dance Awards:
Outstanding Male Performance (Modern) – Jonathan Goddard
The Dancing Times Award for Best Male Dancer – Jonathan Goddard
Best Independent Company
**** "I'd be surprised if I saw a more entertaining piece of dance theatre this year. Kill for a ticket." The Observer
"Welcome to my house. Come freely. Go safely; and leave something of the happiness you bring."
Jonathan Goddard plays the infamous Vampire Count, who's sinister and ruthless ambitions challenge the very fabric of Victorian society. As his victims and opponents rally against him they must face the darkness and savagery within themselves. Bruce's company of ten exceptional dancers bring Bram Stoker's haunting, erotic tale to life in a heart wrenching and magical dance theatre production. With an eclectic mix of music from Bach and Mozart to Ligeti and Fred Frith, Bruce explores choreographic styles ranging from the subtlety of classical etiquette to visceral contemporary dance.
Trailer:  markbrucecompany.com/index.php/productions/past-productions/26-dracula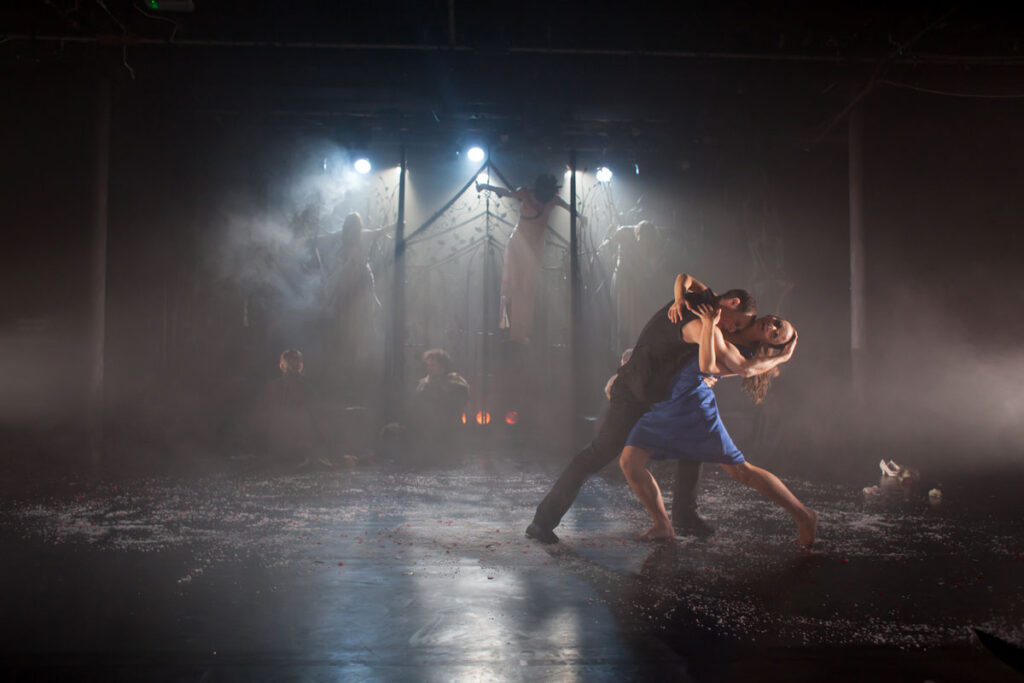 Dancers
•  Alan Vincent, •  Chris Tandy •  Eleanor Duval •  Grace Jabbari, •  Hannah Kidd •  Jonathan Goddard
•  Jordi Calpe Serrats •  Nicole Guarino •  Wayne Parsons• Cree Barnett Williams • Joe Walking • Kristin McGuire
• Nicholas Cass-Beggs
Creative Team
• Chris Samuels – Sound Designer  • Dorothee Brodrück – Costume Designer • Guy Hoare – Lighting Designer
• Phil Eddolls – Set Designer • Pickled Image – Puppetry and Mask, Design and Creation
***** "Mark Bruce has directed and choreographed an eerie, atmospheric and virtually flawless dance adaptation of Dracula that combines savagery, melancholy and terrific athleticism…Give blood for a ticket." The Express
***** "Dracula succeeds on every level. A testament to great adaptation, economical storytelling, visually stunning and a truly gripping evening of theatre." What's On Stage
**** "Bruce and his extraordinarily gifted dancers navigate Bram Stoker's hellish narrative with near-hallucinatory dexterity… it raises the bar of dance theatre very high." The Guardian
**** "'This take on popular culture's most famous bloodsucker is a class act." The Times
Produced by Tobacco Factory Theatres in association Wilton's Music Hall
Commissioned by Pavilion Dance South West
Supported by Arts Council England and the National Lottery