E A R F I L M S
Imagination Is The New Technology
An EarFilm is a film for the ears and imagination utilizing three key components:
Live story-telling, 3D sound and a Cinematic Score.
EarFilms is a company dedicated to a particular sonic format for storytelling. By using an advanced 3D sound system and blindfolding their audience to focus the senses, they create immersive, audio-‐only storytelling experiences, designed to empower and engage listeners' imaginations without sight prompted visual imagery. EarFilms tell their stories through a combination of live narration and detailed pre-‐recorded soundscapes that create an atmospheric world similar to listening to, but not watching, a film. The company has developed this audio language alongside blind and visually impaired focus groups.
"Daniel Marcus Clark brought the hushed closeness of a campfire to a lively 300-seater theatre by the simple act of asking us to put on blindfolds."  The Guardian
"A show of boundless imagination" The Times
"Stunning…Surreal and magical. Your imagination is left to run riot… A sensory experience like no other" The Argus
"We come to… remove our blindfolds and feel like we are awakening into a strangely new reality. A magical experience" The Brighton Magazine
For more information: http://vimeo.com/48705362, https://vimeo.com/105055793, https://vimeo.com/69243866
TO SLEEP TO DREAM
Exploring our relationship with dreaming and inspired by the endless possibilities of the human imagination, To Sleep To Dream is a tale of hope in darkness. Set in a dystopian world that could be a future vision of an Earth dominated by the impact of climate change, To Sleep To Dream imagines a society where dreaming is outlawed.
Part thriller, the tale tells of worker Jack Richards -‐ a man lost in the system -‐ who, after having a glimpse of a dream, begins seeing a symbol from his dream in his waking life. He follows it and finds himself in an underground group of resistance dreamers living beneath the city.  They reveal their discovery: buried deep beneath the layers of dreams, is a lost realm of existence. To find it, Jack must journey through his own subconscious and beyond. So begins an incredible adventure in Jack's bid to discover this magical realm and reclaim it for all. Haunting and magical, To Sleep To Dream explores what it means to dream big in a world that makes you feel small.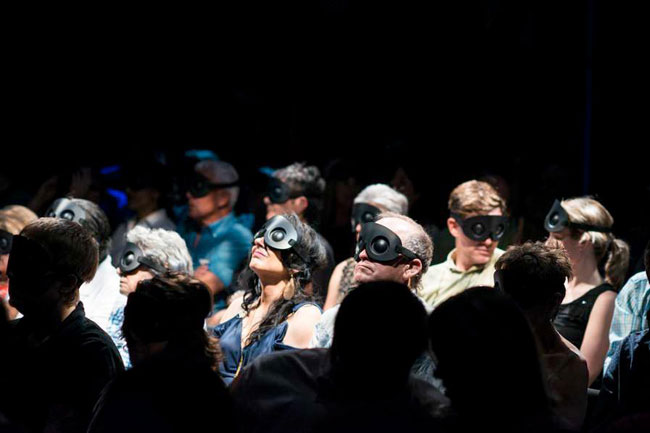 "The imagery that was conjured up – effortless, like dreaming",  "Incredible, beautiful and fascinating", "Like making a movie that you can walk about and control what you see."
POST- SHOW DISCUSSIONS
After each show, the EarFilms team host a group discussion with audiences about their imaginations and the nature of their imaginative experience. This is also a chance for audiences to ask any questions with the creators about the themes of the show and the production process.

THE IMAGINARIUM
The EarFilms Imaginarium is an exciting post-show installation that allows audience members to share their experiences with each other, the creators of earfilms, and the world! One of the most intriguing aspect of EarFilms is that everyone imagines and experiences the show in a totally unique way. We setup the Imaginarium with the intention of capturing these impressions and building a touring exhibition of the imagination.