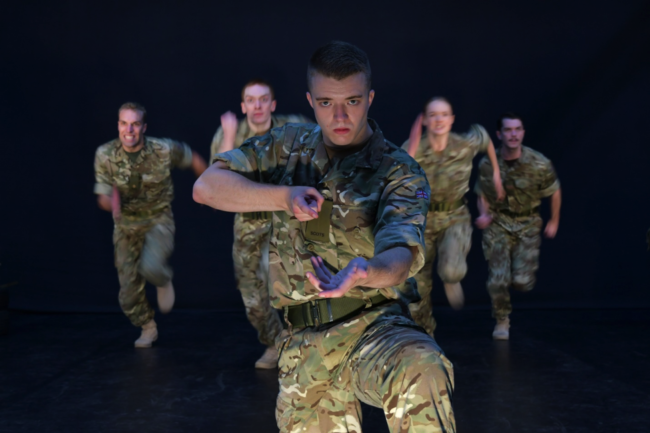 NORTH AMERICAN TOURING MARCH/APRIL 2019
In 2008, choreographer Rosie Kay joined the 4th Battalion The Rifles, to watch and participate in full battle exercises, and visited the Defence and National Rehabilitation Centre for our Armed Forces. What came of these observations is this award-winning, five-star work.
Deeply realistic, stark and thrilling, 5 SOLDIERS offers no moral stance on war, but instead questions what it is that we ask of our soldiers and explores how the human body remains essential to war, even in the 21st century, with Kay's trademark intense physical and athletic dance theatre.
"Lust, shock and awe… 5 SOLDIERS is a disturbing, illuminating and necessary glimpse into a world we mostly prefer to ignore" Judith Mackrell in The Guardian, Top 10 Dance of 2015
A moving, dramatic and unique work, based on military field research, exploring how the human body remains essential to war, even in the 21st century.
★★★★★ The Scotsman
"not only keeps us riveted,
but helps close the gap of
understanding between the
armed forces and the
general public."
★★★★★ The Herald
"Rosie Kay's five soldiers
are dancers, but in-depth
background researches
have grounded her moves
and their delivery in the
physicality, camaraderie
and mental challenges of
army life.
★★★★★ The Observer
"War from a female
perspective packs a
punch…taut, visceral,
compassionate"
Choreographer of the hit film Sunshine on Leith, Kay's trademark style of intense physical and
athletic dance theatre has earned five star reviews, a nomination for Best Modern Choreography
in the National Dance Awards and topped the Best Dance of 2015 charts in The Observer, The
Guardian and The Independent.
"A very moving experience. I wasn't expecting it to have that sort of effect on me. A clever and
evocative representation of combat presented in a medium that I never thought it could be
before." General Sir Nick Parker, former Commander of the British Land Forces
The Observer
18 for '18: the talent and trends tipped for the top in 2018 – Observer writers on what to look forward to in the coming year
"Harriet Ellis – Dance's daring new talent: Cool of gaze, economical of movement, and as sharp and fast as a sparrowhawk, Ellis is a dancer for all seasons. In 5 Soldiers she was punchy and taut-wired, her femininity and vulnerability locked tight inside herself."
https://www.theguardian.com/culture/2017/dec/31/18-for-18-the-talent-and-trends-tipped-for-the-top-in-2018
The Stage
2017: Best Opera and Dance of the year
"And when I finally caught up with Rosie Kay's Five Soldiers, which has been touring around the UK, it was as good as I had heard – a serious attempt to explore the effect of military training and combat on four men and a girl."
https://www.thestage.co.uk/features/2017/2017-best-opera-and-dance-of-the-year/
The Observer
Best dance of 2017
"In these post-truth days, conspiracy theories abound. Choreographer Rosie Kay and film-maker Adam Curtis spotlit some of these in their hallucinatory MK Ultra, a danced decryption of the fantastical threads running through popular culture."
https://www.theguardian.com/stage/2017/dec/10/best-dance-2017-luke-jennings-review
Critics' Circle National Dance Awards 2017 nominations:
Best Independent Company
Outstanding Female Performance (modern): Shelley Eva Haden in MK ULTRA
http://dancetabs.com/2017/11/2017-national-dance-awards-announcement-of-nominations/
Performances will be followed by a post-show discussion with local military representation where possible.
Performances can be preceded by a short dance work made by local community members in response to 5 SOLDIERS.
Age Guidance 12+ Parental guidance advised, contains some scenes of violence.
Duration: 60 mins (no interval)
CAST & CREATIVE TEAM
Choreographer & Director Rosie Kay
Producer James Preston
Dancers Duncan Anderson, Luke Bradshaw, Reece Causton, Harriet Ellis & Oliver Russell.
Set, Costume and Video Designer Louis Price
Composer Annie Mahtani
Dramaturg Ben Payne
Lighting Designer Mike Gunning
5 SOLDIERS 2017 trailer from Rosie Kay on Vimeo.
---