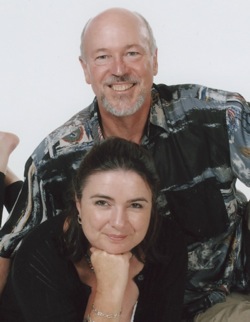 2LUCK CONCEPTS
John Luckacovic & Eleanor Oldham, Directors
Eleanor Oldham & John Luckacovic John spent 19 years with Columbia Artists Management Inc., becoming a vice president and member of CAMI's Board of Directors. In his tenure with CAMI, he directed a division that in one season produced, managed and supervised the touring activities of 25 diverse attractions from all over the world in over 1,100 performances at more than 250 theatres. Over the years, he has been affiliated with more than 40 international attractions, among them the Alvin Ailey American Dance Theater, London's Sadler's Wells Royal Ballet, American Ballet Theatre, Australia's Tap Dogs, Mazowsze – The State Song and Dance Ensemble of Poland, Ballet de Nancy from France, and Brazil's Bale Folclorico da Bahia. In the late 1980's, he was one of the first CAMI managers in many years to produce North American tours for attractions from the former USSR.
As a producer known for developing unusual projects, John also introduced North America to landmark attractions he launched through CAMI, including the record-breaking 36-city tour of Twyla Tharp & Mikhail Baryshnikov, the international sensation STOMP (currently in it's 14th year in New York), and AEROS, which features the talents of three contemporary American choreographers, the creators of STOMP, and 20 medal-winning Romanian gymnasts. In 2001, AEROS was the subject of a two-part television project produced for BRAVO. AEROS continues to tour in North America and Europe.
Eleanor's path began in Europe with a brief career as a lyric soprano, followed by nearly ten years working as an artist's manager in Paris, providing personal management to a list of conductors and instrumentalists as well as opera singers, collaborating closely with US managements such as CAMI, Shaw Concerts, Herbert Barrett Management, Herbert Breslin, etc. From 1991 to '93, she was Artistic Director for the Maurice Ravel International Music Academy in Saint Jean de Luz, securing the services many prestigious performers and teachers and in June 1993, she was asked to represent, as European coordinator, the winners of the Ninth Van Cliburn International Piano Competition. In 1995, Eleanor joined the ICM Artists European office in London, where she continued to sign and manage the careers of conductors (such as David Robertson and David Stern) and instrumentalists (such as Leon Fleisher), eventually becoming second in command of that office. After relocating to New York in 1997, she not only continued managing the careers of opera singers (such as Lauren Flanigan), instrumentalists (such as Carol Wincenc) and conductors, but also developed new projects and attractions, including the Portuguese Fado sensation, Misia, and the highly successful Three Mo' Tenors. Having identified the potential of TMT, Eleanor was intimately involved with the development and actual production of the attraction, which was videotaped in July 2001 for PBS and Great Performances, recorded on CD for RCA Victor, and is currently touring major venues in the US.
In 2001, he and his European partner Eleanor Oldham formed 2Luck Concepts to enable them to continue to seek out, develop and produce unique and engaging projects from around the world. In six short years, among their many projects, they managed the inaugural North American tours of the celebrated George Piper Dances/Ballet Boyz; Akram Khan's Kaash, MA and the recent Sacred Monsters featuring Akram Khan and Sylvie Guillem; produced and managed the first-ever North American tours of London's Shakespeare's Globe Original Practice productions of Twelfth Night and Measure for Measure; the critically acclaimed inaugural North American tour of Stan Won't Dance in Sinner; the first US tour of the controversial New York contemporary ballet company Cedar Lake; and a 12 week/50 city tour of Moscow's Helikon Opera.
Upcoming projects include former Globe Artistic Director Mark Rylance's company Phoebus Cart, continuing Mark's and the entire Twelfth Night creative team's dedication to Original Practice with a production of Othello; the first-in-10 years tour of Mazowsze (coordinated with a major public television special); the Irish physical theatre company Cois Ceim; an encore tour of Sinner; and a new project featuring Akram Khan and Juliette Binoche.